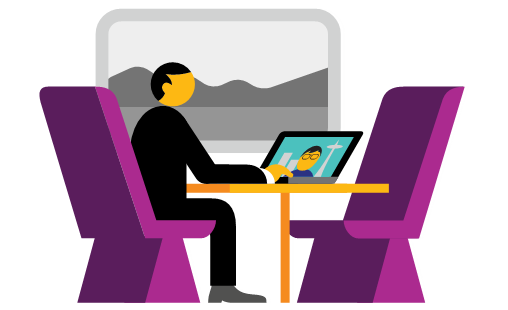 Powering Business Anywhere
63% of businesses say mobility increases the efficiency of their business processes1
41% of businesses say they work faster as a result of using tablets1
Every business today is focused on reducing costs wherever possible, and technology costs are no exception—whether you are adding new servers and storage capacity for your data and files, or purchasing new PCs, mobile devices, and the productivity software your employees use every day.
When it comes to technology investments, you need to make sure you are getting the most value out of the products and services you purchase, and that you are not buying more than you need.
Today small and midsize businesses need range of solutions that help reduce costs and maximize IT investments—whether by getting more from the servers that run your business applications, leveraging the speed and flexibility of the cloud, or getting the most out of the PCs and devices used by your employees.
How to do business anywhere?
1
Be productive on the go
Choose from a wide selection of device and price choices. And work anywhere, anytime, across your favorite devices with Windows 8.1 Pro and Office 365
2
Reach your business apps on the go
Get to important applications and information wherever you are. Sensitive information is kept on the Windows Server 2012 R2 where it is protected, backed up, and up to date. Microsoft Azure hosts apps in the cloud
3
Work together on documents from anywhere
Access your files across your devices and edit documents, spreadsheets, and presentations with co-workers at the same time using Office 365
4
Get a seamless experience across devices Smartphone, tablet, laptop, PC
Get the ease and simplicity of a familiar experience as you move from PC to device whether at home, the office, or on the road. Your files and applications are waiting for you just as you left them
5
Meet online, anytime, from anywhere
Communicate in real-time with rich video conferencing, voice-to-voice, and instant messaging in Office 365.
6
Bring customers & partners closer
Make it easy to share documents internally and externally. Control access and help keep files protected using Office 365 and OneDrive for Business
"I love that the ongoing management of Office 365 and signing up users is
super easy."
Powering Business Anywhere with our solutions