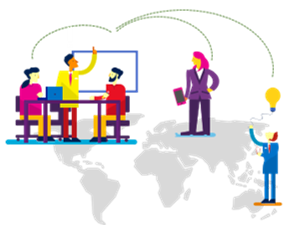 Allow your employees to work from home, office, air-port, hotel or on the go. Today's workforce demands of anywhere access to important business data, to give better customer service and to communicate with each other. With mobilized workforce, you can fast access to your files, calendar, Schedule appointments, read and reply to emails. You can work on same document on same time on any device from anywhere.


File sharing
Easily share your documents with others, inside and outside your organization, and control who can see and edit each file.

Increase Productivity
Allow your employees to connect with the right people, share information across teams, and organize around projects from anywhere, on any device.

Accessible Workplace
Make your workplace accessible from multiple locations, so you can work from anywhere. Also, maintain your network security and reliability.

Anywhere Access
Give your employees anywhere access, so they can access, change, and edit files and documents on real time.

Be responsive
Quick access to relevant files, calendar, Schedule appointments, read and reply to emails even when you are out of office.
Seamless experience across devices
Get the ease and simplicity of a familiar experience as you move from PC to device whether at home, the office, or on the road. Your files and applications are waiting for you just as you left them.