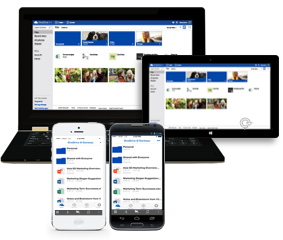 Share documents from anywhere
Surevelox offers simple and secure folder and file sharing functionality even with people who don't have it installed.

Sync files across every devices
Access every file and folder through Mac, Windows, iPhone, iPad, Android, Windows Phone, and BlackBerry—or through any web browser.

Keep files secure and protected
Get authentication features and two-step verification - plus the visibility and control of sharing permissions and audit logs - your files are always safe and protected.

Share files of any size, quickly and easily
Fast and easy way to share files, both within your team and with external partners. There are no file type restrictions, no operating system requirements, and no size limits.

Collaborate seamlessly within shared folders
Simply invite team members to a shared folder and they'll always have the most up-to-date versions of those files, plus any new ones you add. Updates are automatic and lightning fast and working on the same page.

Save time with easy management
Store and easy manage your files and folder on same page. Find your files you need in seconds with simple search.

Business happens everywhere. Not just in your office. In our File sharing and solution, you can view and share your files from anywhere and any device like computers, laptops, tablets, and smartphones. You can easily share documents with others, inside and outside your organization, and control who can see and edit each file. Collaborate on Office documents in real time, and securely store, sync and share files from any device.

Surevelox also help you to secure your files and easily manage your files and folders.