Enterprise grade professional email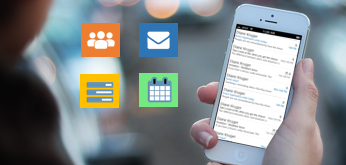 Take control of your mailbox
Maintain control over your environment with easy to use web-based interface. Organize your emails with rules, signature, auto responders and powerful search tools. Protect your information with anti-malware, anti-spam filtering. Define mobile device polices.

Organize your Contacts
Manage your company's contacts and sync with Outlook client or with your Phone or tablet easily.

Manage Calendar and Appointments
Manage and sync your company's calendar, share your calendar with colleague. Take control of your appointments by accessing it from anywhere on any device.

Manage your Tasks
Create to-do lists with tasks that you can assign to others and share with teams or individuals.

Mobility
No matter which device you use or what activities you perform, your email, calendars and contacts are always in sync and up-to-date.

Advanced Add-Ons
Surevelox offers advanced email features like Email Archiving, eDiscovery, Email Continuity, Encrypted Email, etc. Unlike other providers, you can choose add-ons on a per-user basis. This lets you avoid overpaying for some users or under-provisioning for others.

Say good bye to unsecure, consumer grade email that look unprofessional. Our Hosted email solution helps you to securely access your email, manage your business communications across different devices. It ensure that your business email is always accessible to your employees that Improves productivity while protecting your organization's data. Perform all email-related activities along with manage your contacts and tasks and appointments.