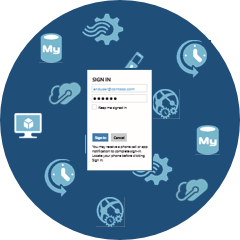 Improve security by provide strong password policies
Your employees can access all your applications with just one password, eliminating the temptation for them to take password shortcuts that can introduce security holes.

Increase employee productivity
Single sign-on and multi factor authentication makes easier for employees to find and access web apps which helps them to remain focused on doing their jobs. No more frantic requests from users who can't find their login URLs or passwords.

Control access to confidential data
You use multi-factor authentication to help prevent unauthorized access. Also, Secure information across file servers, email, and collaboration platforms with document tracking and encryption.

Protect on-premises web applications with secure remote access
Access your on-premises web applications from everywhere and protect with multi-factor authentication, conditional access policies, and group-based access management.

As businesses provision more cloud services, user password behavior generally gets less secure. Our single sign-on solution gives your employees a single portal for access to all their apps, with just one password to remember. So, you do not have to remember strong passwords. Also, our solution provides multi-factor authentication to help prevent unauthorized access.