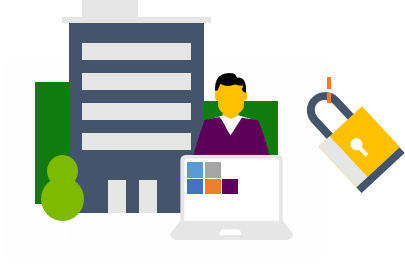 Protect your data and prepare for the unexpected
60% SMB technology leaders cited data security or privacy as a concern
40% of businesses hit by disaster never reopen
With the explosion of mobile device usage at work, lost or stolen devices all too often result in lost company files and data. Employees want the freedom to access the applications and data they need on whatever PC or device they choose—whether at the office, at home, or on the road. At the same time, you need to make sure data is protected.
How to Safeguard your business?
1
Protect your PCs and mobile devices
With built-in security features in Windows 10 and Office 365, guard against hackers, malware, and viruses. Get automatic protection against spam & email threats. Easily manage and protect mobile devices and remotely delete information from a lost or stolen device.
2
Simplify mobile device management
Using Windows 10, Office 365 and Windows Intune proactively manage desktops, tablets and mobile devices using single easy to use platform.
3
Control access to your business apps
Get to data and apps whenever by providing remote access to your employees and keep data secure on server. Control security by user, by device and by location.
4
Get back to business quickly
You get disaster recovery technology included in Windows Server 2012 R2 and with Azure Site Recovery in the cloud.
5
Continuously back up your latest files
Using OneDrive for Business and Microsoft Azure you always have access to your business-critical information. And Windows Server 2012 R2 automatically saves your files to a second data center
6
Count of reliability of Cloud
Get right back to work when you rely on the financially backed 99.9% uptime service guarantee Office 365, Microsoft Azure
"Our computers are our lifeline. When Hurricane Sandy hit, Hyper-V Replica saved our business."
Safeguard your business with help of Our solutions

Backup and desaster recovery
Move beyond backup and disaster recovery to fast, reliable replication and recovery of your core systems- data, applications, and IT infrastructure.
Learn more

Security and Protection
Move your data to cloud to secure and protect them so that it doesn't fall into the wrong hands and also keep your highly sensitive data in your control.
Learn more

Single sing-on
Single sign-on gives your staff a single portal for access to all their apps, with just one password to remember. This solution increases security and saves time for users.
Learn more